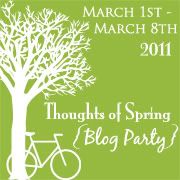 How would people describe your personality? (If they could only use ONE word.) Are they right?
Caring. I like to think they're right. I chose my profession (speech therapist) based solely on the fact that I wanted to help people.
What celebrity/celebrities would create a "Star-Struck" feeling if you saw them in real life?
TIM TEBOW. I am totally obsessed with him. Not just because he is sooooo good looking and an awesome football player but because he is a fantastic person who lives to serve God.
Who is your favorite blogger? Why?
My friend from college, McCall. I love getting to know her even better through her blog. Plus, she is a funny, creative, pretty awesome person who inspires me. Check her out!
What is your comfort food/drink?
Gas station French vanilla cappuccino and warm chocolate chip cookies. :-) My favorite road trip food/drink are Funyuns and Diet Mountain Dew (if I'm being honest, I drink one of them everyday).
Be brave – tell us something very random and weird about yourself.
Only one thing? I'm sure I have a ton of weird random stuff if I think hard enough. I cannot stand chalk. I hate to touch it. I think chalkboard paint is one of the worst things ever invented.
Do you have a strong desire to do something you've never done? What is it?
Skydive and visit Australia and Africa.
Movies: Action, Drama, Romantic Comedy, Documentary, Comedy? What are your favorite genres?
I like a little bit of everything, just depends on the mood I'm in. I do love a good chick flick (The Notebook, My Best Friend's Wedding, Fever Pitch) but really love comic book boy movies too (Spiderman was mine and my hubby's 1st date). We just saw The Fighter, and it was great. Hope I make it to The King's Speech before it's out of the theaters.
Books: Fiction, Non-Fiction, Romance, Biographies, True Stories, Self-Help, Devotional/Study? What are your favorite types of reading material?
I definitely only read Non-fiction more than anything. I love "chick lit" and crime/lawyer books, especially the ones that are a series (like James Patterson's Alex Cross). I am a sucker for Nicholas Sparks. That man sure knows how to write a man that every woman wants! Ok, and I admit that I'm totally a Twi-mom.
Music: Funk, Rock, Country, Jazz, Classical, Film Score, Blues, Classic Rock, Crooner, Alternative, Heavy Metal, Techno? What are your favorite types?
I'm in a country mood these days. I love the old stuff and new stuff. I like a little mixture of everything though. I'm going to see Sugarland next Saturday and am super excited about going to my first concert in
forever!
If you inherited a million dollars, what is the first thing you would do with your money?
Buy a Speech Easy device for a patient I evaluated. It's a device made to help people who stutter become more fluent when they speak. She's a sweet, cute junior high school student who stutters so much. I really the device would help her, but they're really expensive and not covered by insurance.
Name one weakness of yours (confession is good for the soul).
Girl Scout cookies, Samoas in particular
If you could live anywhere at all (and take all your loved ones with you), where would you go?
Hawaii. Perfect weather all the time and surrounded by the beach? Sign me up!
Strange Talent? Can you juggle basketballs, put your legs behind your head or perform some other strange feat?
I can't think of anything. Guess I'm boring. :-(
What's something you consider yourself to be good at? (Don't worry, it's not bragging, it's acknowledging a God given gift).
I think I'm a good mom. I know I have my moments, but my husband made me so happy when he told me that this is what I was born to do.
What is one of your favorite things to catch a whiff of?
Honeysuckle--reminds me of my childhood.
When you leave a social gathering, do you wish: You would have talked more or You would have talked less?
Depends on if there was alcohol involved--lol! I tend to be pretty quiet around big groups of people. But if I've had a few glasses of wine, I can easily become Chatty Cathy...
If money wasn't a factor, what stores would you shop in?
Tiffany (mostly just bc that little blue box by itself makes me so happy!), Pottery Barn, Coach, Banana Republic, Barnes and Nobles, Kelly's Kids (insert plug here--I just became a rep for them--let me know if you want to buy something!)
What is your greatest fear or strange phobia?
My greatest fear is failing as a mother.
What is your greatest accomplishment?
Hands down.
What are your favorite animals?
I love monkeys and giraffes and owls (not really real owls, but cute owls on party favors, clothes, hats, and such...).
Are you a hopeless romantic?
I used to be. Not so much anymore.
What movie or book character can you most relate to?
Carmen from Sisterhood of the Traveling Pants

Happy Thursday (aka my Friday!!)!!!